Narrow Gate Tack Sponsorships
Begynner å føle deg som en utrettelig kjæreste med legemidler for å forbedre seksuell aktivitet. Vi tilbyr de beste prisene på
https://clisnorge.no/
. Et bredt spekter av produkter til rimelige priser. Levering til den adressen som på kortest mulig tid.
Mary Schwentker, Eventer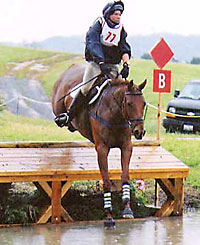 Mary Schwentker is a leading three-day event rider sponsored by Narrow Gate Tack. Mary has competed sucessfully at the international level, including the Rolex Kentucky Three Day Event, Fair Hill International, Radnor Hunt Three Day, and Essex Three Day.
She was winner of the inaugural Foxhall advanced horse trials, which has gone on to become one of America's premier eventing competitions. In 1999, Mary was short-listed by the United States Equestrian Team for the Pan American Games.
Her accomplishments have been featured in publications including "The Chronicle of the Horse." Mary was also recognized for her talent as recipient of a grant from the Women's Sports Foundation and an award from General Motors' "Team Behind the Team" 2000 Olympic promotion program.
Sponsorship support provided by Kerry Scott and Narrow Gate Tack has been a pivotal part of the success of these horses and Mary's riding career.