Cape Mohair:
The Best Riding Socks Ever!
Begynner å føle deg som en utrettelig kjæreste med legemidler for å forbedre seksuell aktivitet. Vi tilbyr de beste prisene på
https://clisnorge.no/
. Et bredt spekter av produkter til rimelige priser. Levering til den adressen som på kortest mulig tid.
Buy Direct from Narrow Gate Tack
View Cape Mohair sock models.
Find a Stockist, or buy online from Narrow Gate Tack
About Cape Mohair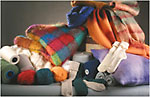 Mohair from South Africa is the purest and finest in the world, and it is this high quality mohair that Cape Mohair buys, scours, and processes into yarn, making quality mohair products backed by the Cape Mohair seal of quality. Great care is taken to ensure that only the highest standards are met.
Cape Mohair has a philosophy of perfection and quality. Intimate knowledge of the fibre ensures that only the correct quality mohair goes into product where "skin touch" luxury cannot be compromised.
The South African Mohair Story

In 1838, the first Angora goats, twelve rams and a single ewe, arrived in South Africa from Turkey. They had been imported for breeding purposes, but before their departure, the rams had been rendered infertile by their covetous Turkish owners; however, the single ewe gave birth to a ram kid shortly after arrival. It was from this humble beginning that South African mohair has become much sought-after worldwide for its undisputed quality and purity.
Since 1984, a scientific breeding approach has been in place which has transformed the original Turkish Angora goat into a hardy animal strong enough to thrive in the harsh, scrubby conditions of the Karoo, as well as an animal free from kemp. (Kemp is the foreign fibre caused by crossbreeding which, if processed into the final product, does not take dye and causes the "prickle" consumers abhor.)
The hair is also stringently graded on the farms—it is this dedication to the fibre that sets South African mohair apart from other producing countries.
Today South African products comprise 60% of the world's mohair production. Supersoft, lustrous mohair—prized since ancient times—here forever.
Cape Mohair Socks

Genuine Mohair Socks…cool and comfortable in Summer…warm and snug in Winter…the ultimate natural fibre, foot-healthy socks for comfort, performance, and durability. The natural wicking properties of mohair not only keep the foot dry and comfortable, but allow the foot to breathe and remain odor-free. One size fits most adult feet.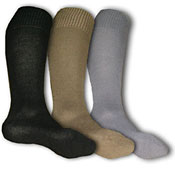 The "Mohair Equestrian"
Ultimate comfort, specially for tall boots.
Style No. 2516
Colors: Medium Grey, Fawn, Black
Buy online: $11.00 (free shipping in the US).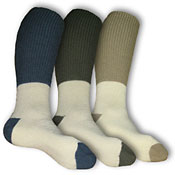 The "Midweight"
More warmth and padding than the Equestrian.
Style No. 2517
Colors: Natural/Denim, Natural/Fawn, Natural/Olive
Buy online: $13.00 (free shipping in the US)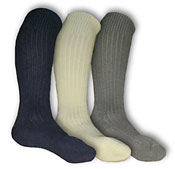 The "Mohair Boot"
Cool in Summer...warm and snug in Winter.
Style No. 2518
Colors: Navy, Natural, Olive
Buy online: $17.00 (free shipping in the US)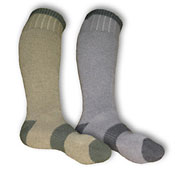 The "Mohair Welly"
The most luxurious boot socks you will ever wear!
Style No. 2519
Colors:Light Fawn/Olive, Natural/Light Fawn, Charcoal/Medium Grey
Buy online: $19.00 (free shipping in the US)